Marge Rosen
Music Director
Marge Rosen is a conductor, trumpet player and drummer. On the North Olympic Peninsula, she conducts the Port Townsend Summer Band, plays trumpet with Stardust Big Band, and plays trumpet and percussion with the Port Angeles Symphony Orchestra.
Marge plays lead trumpet for Seattle Women's Jazz Orchestra and is the Executive Director of this nonprofit arts organization where she established an international jazz composition contest for women composers and an all-girls jazz workshop. She has conducted many community bands, orchestras and jazz ensembles in the Seattle area.
Marge is an experienced band director teaching K-12 music in public schools in Washington, New York and Maryland.
As a veteran of the United States Navy Band, she has performed for the President of the United States, numerous foreign dignitaries, and at the 1994 World Cup.
Marge has performed across the country from Carnegie Hall to Benaroya Hall and from Adak, Alaska to Lima, Peru.  She earned a masters degree in music education from Ithaca College in New York.
Tess Teel
Vocalist
Singing for a live audience and taking them with me along the musical journey of a song is my joy.  Experiencing the music together is what makes it memorable, and magic."  ~Tess
Tess found she had a good ear for music at the tender age of seven and has been singing her heart out ever since. Tess sings in a wide range of styles and languages- she enjoys performing Standards from the Great American Song Book, Bossa-Nova, Swing, Jazz, Dixieland, Country and contemporary Pop/Rock hits.  Tess's song book includes many songs performed in with French, Portuguese, Spanish lyrics and whenever possible she strives to perform a song in the original language as the composer intended.
In addition to swing, blues, jazz and popular music, Tess has performed many major chorale works with the Canto Bello Master Chorale and was a member of the Riverside Lyric Opera in Southern California and was selected to travel and perform Die Zauberflöte (in German) as part of a musical cultural exchange program with the Ensenada Chamber Orchestra.  She has been a psalmist, cantor, and church soloist for over 25 years and sings for private engagements as well.
Tess is is honored to have been chosed to be "the voice" of Stardust Big Band and has been performing with Stardust since 2020.  When not performing with Stardust, she sings up and down the Olympic Peninsula and is equally at ease performing with accompaniment from a single guitarist or keyboard; her own Tess Teel Jazz Trio; and her 5-piece dance band "Queens & Aces".
Tess works with many of the best musicians from Seattle and the Peninsula lending her silky, emotive vocals to many different musical groups performing in the area.
Pete Harris
Drums
Pete is an in-demand drummer across the region and plays with many top jazz combos.
Steve Kirk
Guitar
Steve Kirk is a composer and guitarist based in Sequim, WA. A large portion of his work involves composing for multi-media, and he has written for a variety of ensembles and styles, with video games, a television cartoon series, and live scored performances of silent movies to his credit.
He is also an active performer in the Sequim and Peninsula jazz scene, is an arranger and producer, and runs Steve Kirk Studios, based in Sequim, WA.
Vern Fosket
Bass
Vern plays bass and trombone.  He is a retired and beloved band director at Sequim High School.  When not playing music, you can find him making lattes as a local barista. This must be how he keeps the tempo snappy.
George Radebaugh
Piano
George is a very busy musician.  He performs on a cruise ship and in several prominent jazz combos in the region. 
Bill Cole
Alto Saxophone
Bill Cole is a versatile musician performing on alto and tenor saxophone.  He can be heard in combos all around the Peninsula.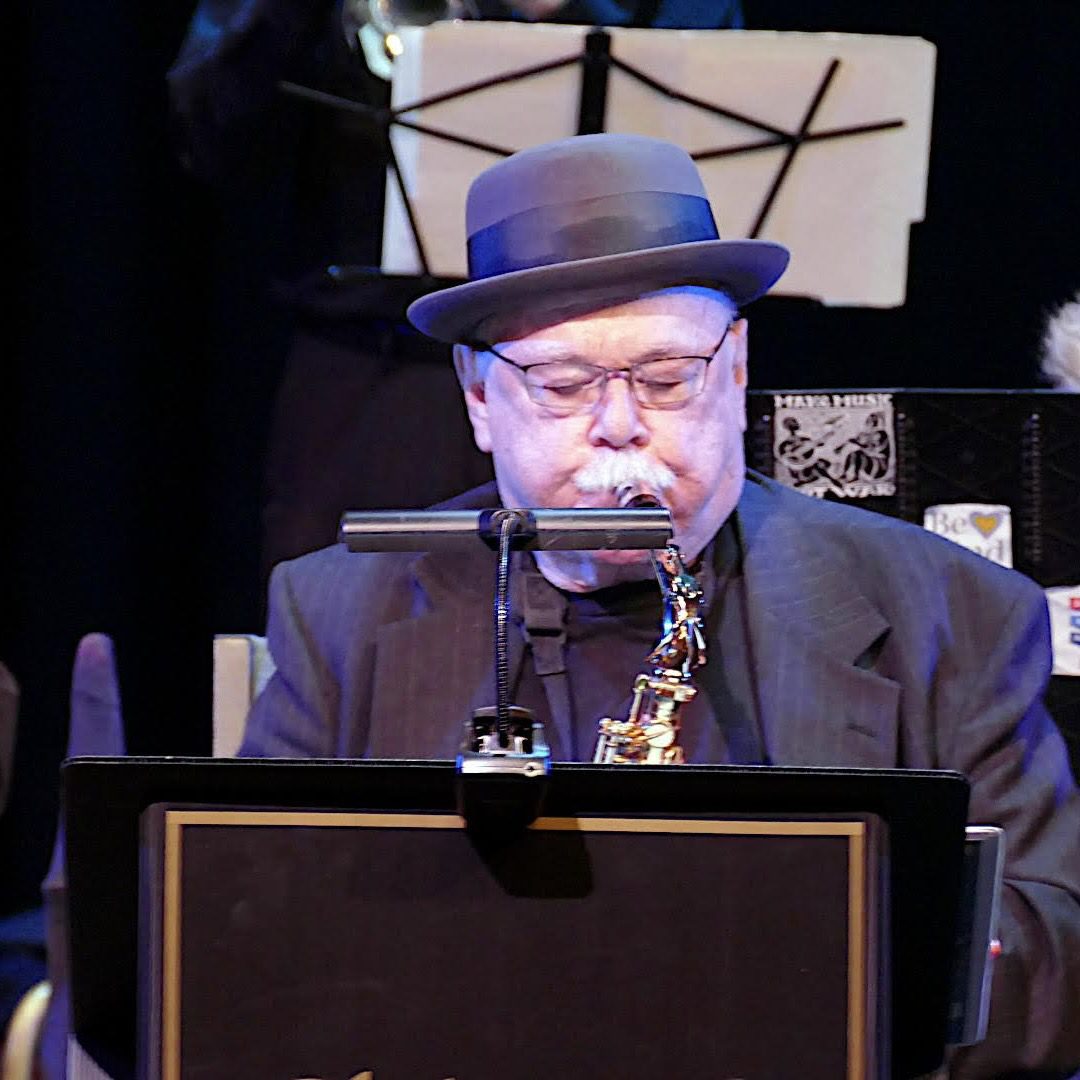 John Adams
Alto Saxophone
John Adams is a multi-instrumentalist.  In addition to alto sax, he plays clarinets from Eb soprano to bass clarinet, often bringing several instruments to rehearsals and performances.  John also plays with Peninsula College Jazz Band and Port Townsend Summer Band.
Richard "Doc" Thornson
Tenor Saxophone
Doc is an expert in the classic big band style. He can be heard playing jazz in several ensembles in the area including Peninsula College Jazz Band.
Andy Geiger
Tenor Saxophone
Andy also performs with his own jazz combo Time Out.
Al Thompson
Baritone Saxophone
Al is a retired public school band director and plays jazz saxophones and doubles on clarinet with several ensembles in the Port Townsend area.  He should be playing with the Port Townsend Summer Band.  🙂
Phil Lepper
Trumpet
Phil has a patent pending method to playing lead trumpet called The Philly Method.  In his spare time, he keeps us all stocked with bread and donuts.
Ed Donohue
Trumpet
Ed Donohue is an amazing solo trumpet player.  He is in high demand performing thoroughout the area with many, many top jazz artists.  If you hear a live band this weekend with a trumpet player, it's probably Ed.  He's a retired band director fom Port Angeles.
Doug Brundage
Trumpet
Doug plays trumpet with several ensembles in the area including the Port Angeles Symphony Orchestra and the Sequim City Band.
On a sunny day in Sequim, look up!  You'll probably see Doug gliding around taking in the sights.
Jeff Dingle
Trombone
Jeff plays trombone with several ensembles on the North Olympic Peninsula including Peninsula College Jazz Band and Sequim City Band.  When not playing music, Jeff is a musical instrumet repair technician.
Wayne Paulson
Trombone
Wayne plays trombone with several groups in the region including the Port Townsend Symphony Orchestra and Poulsbo Concert Band.
Cliff Brown
Trombone
Cliff also plays trombone with Sequim City Band. He may also be a sailor. Or a pirate.
Hannah Reed
Bass Trombone
Hannah Reed is a musician and teacher from Port Angeles. With a bachelor's degree in music education from Central Washington University, Hannah is currently teaching K-12 music at the Crescent School District and performs with the Stardust Big Band and Port Angeles Symphony on bass trombone, as well as the Sequim Community Band on tuba.